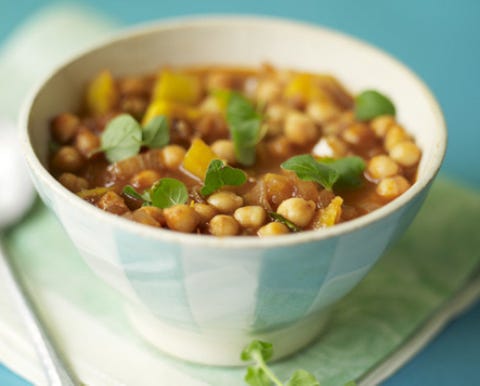 Main ingredients
1 
red, 1 green and 1 yellow pepper, each halved and deseeded
410 g.
can chickpeas, drained
1/2 
level tsp ground cumin
4 
level tbsp roughly chopped flat-leafed parsley
1 
level tbsp harissa paste
2 tbsp.
olive oil 1 onion, finely sliced
2 
level tbsp tomato purée
Preheat the grill and lay the peppers skin-side up on a baking sheet.
Grill for around 5 mins or until the skin begins to blister and char.
Put the peppers in a bowl, cover with clingfilm and put to one side.
Peel the skins and discard. Slice the pepper and put to one side.
Heat the oil in a large frying pan, add the onion and cook for 5-10 mins or until softened.
Add the garlic, harissa, tomato purée and cumin and cook for 2 mins.
Add the peppers to the pan with the aubergine. Stir everything to coat evenly with the spices and cook for 2 mins.
Add the chickpeas and stock, season well and bring to the boil. Simmer for 20 mins.
Stir the parsley through the chickpea stew.