From struggling to pay fees online to not being able to generate admission slips — students applying for courses at Delhi University have been facing a fair share of difficulties this season. To make their voices heard, aspirants and their parents Monday queued up outside the admission help desk office at the conference centre in north campus, asking the university to solve their problems.
Monday was the second day of admissions under the second cut-off list. "I do not know what the problem is but I could not find the college I wanted to take admission in. Not knowing what to do, I had to come here all the way. I have been told to submit an application, but I am worried now as Tuesday is the last day for admission under the second list," said Abhinandan Shah, who wanted to take admission in Vivekananda College.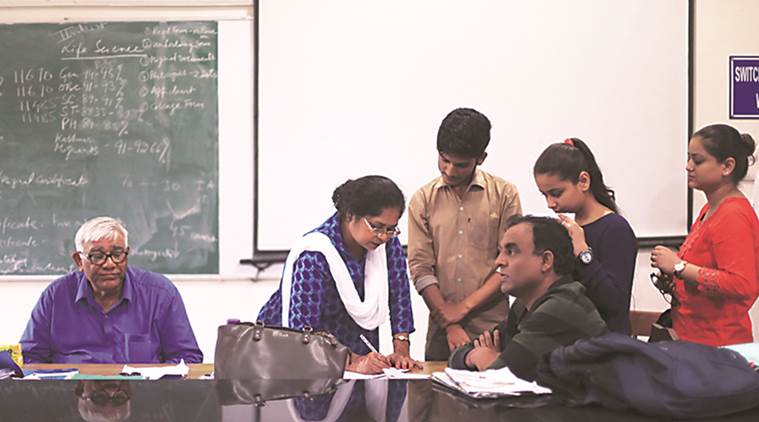 The other common complaint was that students are not being able to log in to make online fee payment. Those who have paid have a different problem — not being able to generate the receipt. Students have to carry the fee receipt to get entry to the college on the first day. According to DU officials, of the 22,847 admissions approved, payment has been made for 19,000 seats. With 22,847 seats having been taken up, there are still 33,153 seats left in 61 colleges. However, colleges will be able to talk about the third cut-off once the admission is completed under the second list on Tuesday.
"Today (Monday), there were fewer students who came for admission. Just seeing the data till today, I think there will be no third list for BCom (Hons) general seats," said Mallika Kumar, head of the commerce department at Shri Ram College of Commerce (SRCC). In other colleges, such as Ramjas, seats are filling up fast. Of the total 1,334 seats, 1,000 have already been filled.
At Gargi College, 1,100 out of 1,400 seats have been filled. "There will certainly be a third list, with some courses closed for the general category students. As there is still a day left for admission, and with students withdrawing to move to other colleges, a clear picture will emerge on Tuesday," said an admission committee member of Ramjas College. The third cut-off list will be released on July 7.