Off-campus colleges in DU saw a significant drop in cut-off percentages in the second list released by the university on Friday night. PGDAV College, which had set the highest cut-off of 98% for Computer Science in the first list, saw a drop of 5% for the course in the second list. Several colleges such as Aditi Mahavidyalaya, Bhagini Nivedita College, BR Ambedkar College, Motilal Nehru College and PGDAV college saw cut-off percentages fall by a minimum 2% and, for some courses, even as high as 9%. Usually, due to the large number of applications that the university receives, the difference in cut-off percentages between the first and second list is not more than 1.5%.
In fact, many sought after courses and colleges closed applications after filling up the seats with the first cut-off itself — as is the case in Hindu College and LSR College this year. The drastic drop in off-campus college cut-offs may be attributed the fact that many of them are on the outskirts of Delhi and not well-connected to the Metro — making them relatively less popular among applicants. However, in some cases, the drop also has to do with the popularity of a certain course.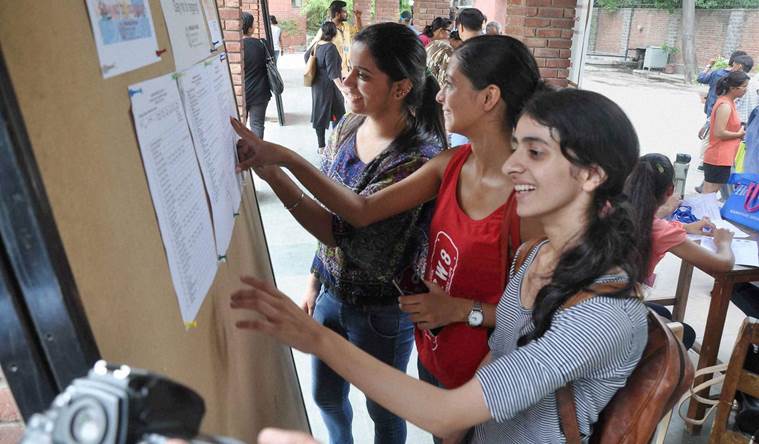 For example, in Aditi Mahavidyalaya, situated in Bawana, many courses saw the cut-off drop by 5-6%. For less popular courses such as BA (Hons) Social Work, the college reduced cut-off from 88% to 80%. Similarly, in its BA Hindi Journalism course, the cut-off fell from 80% to 75%. Even for popular courses such as BA Programme and Geography, there has been a drop of 5% and 4% respectively.
At Bhagini Nivedita College, situated in Kair village near Najafgarh, cut-off for courses such as Political Science and History reduced by 4% and 3% respectively.
Science courses, too, saw the same trend. Bhaskaracharya College of Applied Sciences in Dwarka saw cut-offs reduce by an average of 3%. Less common courses like Instrumentation (87%) and Polymer Science (87%) saw a drop of 5% each. Swami Shraddhanand College in Alipur saw a drop of 6% and 5% in Applied Life Sciences and Botany. Cut-offs for languages, especially Hindi, saw a drastic drop in many colleges.